Watch Beau Lotto's talk above on opti­cal illu­sions and how infor­ma­tion can dif­fer depend­ing on perception.
Writ­ten by Ben Thomas
The year was 1943, and the Pen­ta­gon had a prob­lem. They'd poured mil­lions of dol­lars into a new voice encryp­tion sys­tem — dubbed the "X Sys­tem" — but no one was cer­tain how secure it was. So the top brass called in Claude Shan­non to ana­lyze their code and — if all went well — to prove that it was math­e­mat­i­cally unbreakable.
Shan­non was a new breed of math­e­mati­cian: A spe­cial­ist in what's known today as infor­ma­tion the­ory. To Shan­non and his fel­low the­o­rists, infor­ma­tion was some­thing sep­a­rate from the let­ters, num­bers and facts it rep­re­sented. Instead, it was some­thing more abstract; more math­e­mat­i­cal: in a word, it wasnon-redundancy.
As Beau Lotto explains in his pre­sen­ta­tion, we're hal­lu­ci­nat­ing real­ity all the time — but we only take notice when our hal­lu­ci­na­tions fail to make accu­rate pre­dic­tions.– Ben Thomas
Take, for exam­ple, the sequence of let­ters spelling out "Let's crack the codes." It's got a high level of redun­dancy — not all its let­ters are essen­tial for get­ting its mes­sage across. As long as you've got some prac­tice read­ing Eng­lish, you can look at a shorter, less-redundant sequence like "Lt's crck th cdes" and fill in the miss­ing sounds. Along the same lines, Hebrew and Ara­bic speak­ers can read the vowel-free writ­ten forms of their lan­guages just fine. Our brains are sur­pris­ingly tal­ented at pick­ing up pat­terns, fill­ing in blanks, and ignor­ing redun­dant data — only when we're uncer­tain about how to fill in a blank does infor­ma­tion become… well, informative.
Shannon's non-redundancy idea isn't just handy for crack­ing codes, though — today, it's respon­si­ble for most of what you see on the Inter­net. JPEG image com­pres­sion, for instance, throws out most of an image's data, and we rarely notice anything's miss­ing — our brains' visual sys­tem smooths out the rough spots. Same goes for MP3 com­pres­sion, and for the Flash video encod­ing used on YouTube. Ever since Shannon's day, infor­ma­tion the­o­rists have been refin­ing their tech­niques, drilling closer and closer to the bare min­i­mum of infor­ma­tion required to con­vince us we're not miss­ing any­thing. (You might say those ancient Hebrew and Ara­bic scribes were a few thou­sand years ahead of their time.)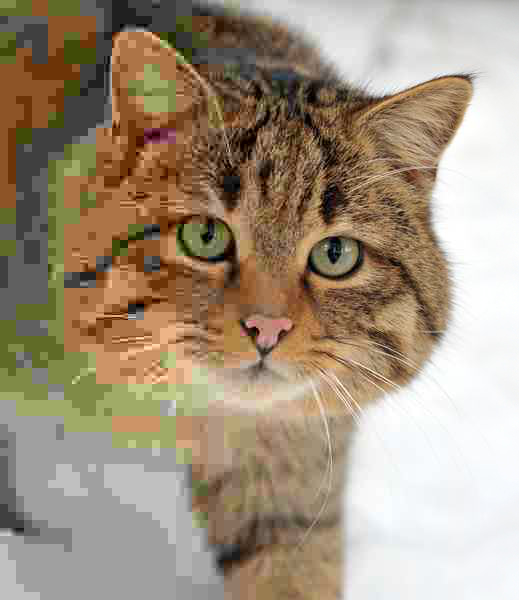 Data com­pres­sion isn't just dig­i­tal, either — in fact, it's hard­wired into our brains, 
from the neu­rons up
. As Beau Lotto shows us in his TEDTalk above, every color we per­ceive is depen­dent on its con­text: What other col­ors sur­round it? Is it in light or in shadow? How's the light tinted? And what's true for light holds true for sound, too — as I explain in 
this arti­cle
, your brain gets so pumped up about rhythm that it actu­ally hal­lu­ci­nates miss­ing beats. Oh, and if you're in the mood for some­thing extra weird today, check out 
Oliver Sacks' TEDTalk
 on 
Charles Bon­net syn­drome
 – a brain dis­or­der that makes peo­ple 
hal­lu­ci­nate vivid scenes
 from tiny stray nerve signals.
In light of all this, it's hard to escape the inven­tor Ray Kurzweil'scon­clu­sion: "We don't actu­ally see things [at all]; we hal­lu­ci­nate them in detail from low-resolution cues." As Beau Lotto explains in his pre­sen­ta­tion, we're hal­lu­ci­nat­ing real­ity all the time — but we only take notice when our hal­lu­ci­na­tions fail to make accu­rate pre­dic­tions; when we think we're cer­tain of some­thing that's actu­ally not so cer­tain, and our brains have to hunt down new infor­ma­tion in order to make bet­ter predictions.
Claude Shan­non once said, "Infor­ma­tion is the res­o­lu­tion of uncer­tainty." The more cer­tain we are in our hal­lu­ci­na­tions, the less infor­ma­tion we think we need — and the less open to new infor­ma­tion we become. Beau Lotto fin­ishes his talk on a sim­i­lar note. "Only through uncer­tainty," he says, "is there poten­tial for understanding."
Luck­ily for the Allies in World War II, Shan­non had just the right kind of under­stand­ing for the job. After prov­ing the Pentagon's X Sys­tem math­e­mat­i­cally uncrack­able, he helped lay the ground­work for the next gen­er­a­tion of mil­i­tary codes. His most endur­ing legacy, though, isn't the codes he cre­ated, but the idea behind them: Only in uncer­tainty do we real­ize information's value.